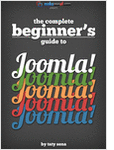 In this 41 page guide you will be introduced to Joomla which enables you to build Web sites and powerful online applications. Many aspects, including its ease-of-use, extensibility, quick learning curve and templates, have made Joomla one of the most popular Web site software's available. Best of all, Joomla is an open source solution that is free to everyone. This guide is meant to serve as a guide to Joomla's basic features and help you install your first Joomla website.

We all have been beginners at some point, so hopefully this guide answers some questions you may have regarding Joomla.

Also with this free guide you will also receive daily updates on new cool websites and programs in your email for free courtesy of MakeUseOf.